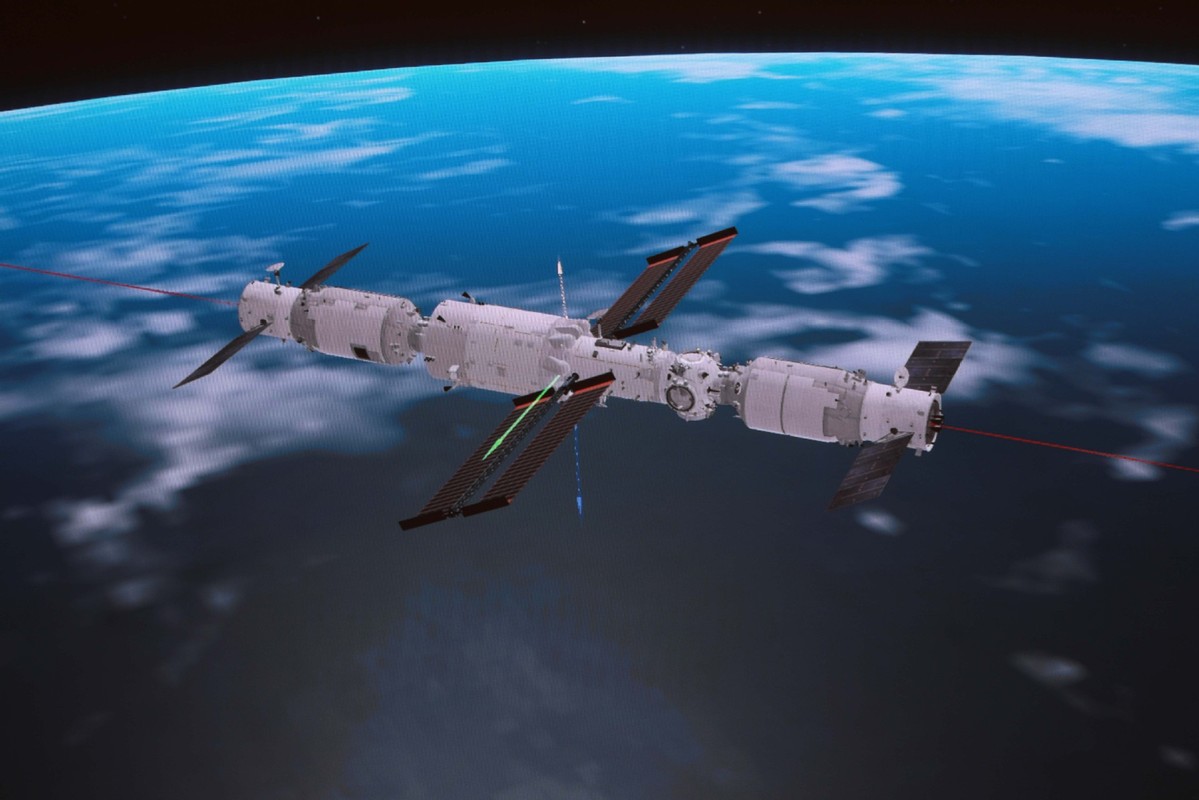 The assembly phase of China's Tiangong space station program began on Tuesday with the launch of the Tianzhou 4 cargo spacecraft, according to the China Manned Space Agency.
The robotic spacecraft was launched at 1:56 am by a Long March 7 carrier rocket from the Wenchang Space Launch Center in Hainan province and soon entered a low-Earth orbit of around 400 kilometers. It docked with Tiangong in the same orbit at 8:54 am.
Carrying nearly 6 metric tons of propellants and material, including more than 200 packages, Tianzhou 4 is tasked with supporting the upcoming Shenzhou XIV mission, during which a three-member crew is expected to stay six months inside the Tiangong station.
Wang Chunhui, an engineer at the Astronaut Center of China who took part in the Tianzhou 4 program, said most of the craft's cargo is made up of living necessities for the Shenzhou XIV crew, especially food and clothing.
Currently, Tiangong consists of the Tianhe core module, the Tianzhou 3 and the Tianzhou 4. Its most recent occupants-three astronauts of the Shenzhou XIII mission-completed a six-month journey and returned to Earth in mid-April.
The Shenzhou XIV spacecraft will be launched next month from the Jiuquan Satellite Launch Center in northwestern China, Hao Chun, chief of the space agency, said last month.
In July, the Tiangong station's first lab component, Wentian (Quest for the Heavens), will be launched, and the second lab, Mengtian (Dreaming of the Heavens), will be sent to dock with the station in October, Hao said. After they are connected with Tiangong, the station will form a T-shaped structure.
After the space labs, the Tianzhou 5 cargo craft and the Shenzhou XV crew are scheduled to arrive at the massive orbiting outpost around the end of the year, the official said.
Tianzhou 1, China's first cargo spacecraft, was launched from the Wenchang center in April 2017. It carried out several docking and in-orbit refueling maneuvers with a Chinese space laboratory in a low-Earth orbit between April and September that year, enabling China to become the third nation capable of in-orbit refueling, after the former Soviet Union and the United States.
With a designed life of more than a year, each Tianzhou cargo spaceship has two parts-a cargo cabin and a propulsion section. The vehicles are 10.6 meters long and 3.35 meters wide.
The cargo vehicle has a liftoff weight of 13.5 tons and can transport up to 6.9 tons of supplies to the space station.