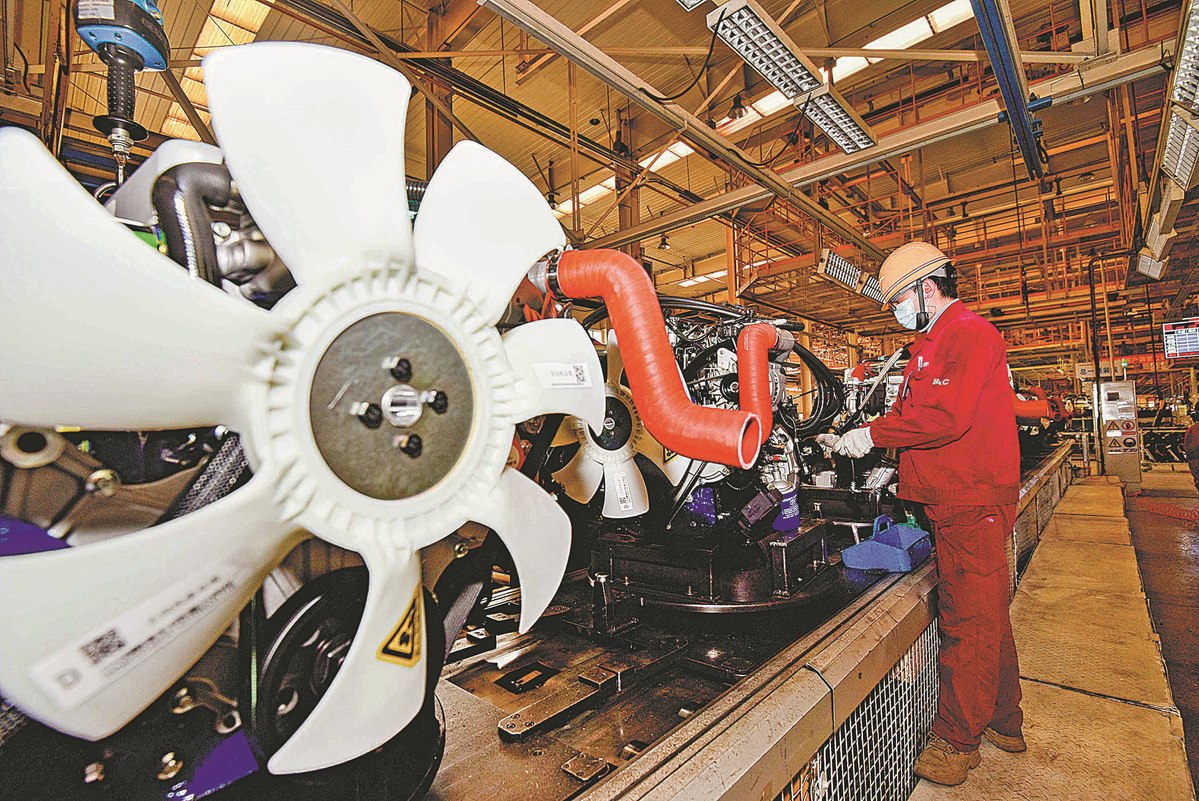 Growth driven by bigger role of innovation and increasing supply
China's industrial output grew 5.0 percent year-on-year in March, reflecting the resilience of the nation's sprawling industrial economy, but more efforts are needed to deal with the increasing pressure of COVID-19 on industrial production, experts said.
Fu Linghui, the spokesman of the National Bureau of Statistics, said China's industrial output, an important economic indicator, rose 6.5 percent year-on-year in the first three months.
During the January-March period, mining output recorded a year-on-year growth of 10.7 percent, the fastest among the three major industrial sectors, the NBS said.
Meanwhile, manufacturing output increased 6.2 percent, while the production and supply of electricity, heat, gas and water rose 6.1 percent.
The relatively rapid growth of industrial production in the first quarter was not only driven by the recovery of the domestic and global economy, but also by the larger role of industrial innovation and increasing market supply, Fu said.
Specifically, high-tech manufacturing and equipment manufacturing saw marked growth, expanding 14.2 percent and 8.1 percent, respectively, both higher than overall first-quarter industrial output.
Fu said market demand for mid-to-high-end products has increased, coupled with effective implementation of the innovation-driven strategy and the accelerated pace of industrial upgrading. Equipment manufacturing and high-tech manufacturing have played a clear role in supporting overall industrial growth.
In terms of production, the output of new energy vehicles logged a marked increase of 140.8 percent, while that of solar batteries and industrial robots jumped 24.3 percent and 10.2 percent, respectively.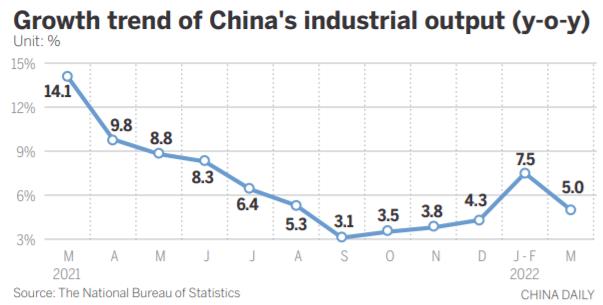 Chen Bin, executive vice-president of Beijing-based China Machinery Industry Federation, said NEVs were the biggest bright spot in the machinery sector in the first quarter.
In March, due to increasing uncertainty both at home and abroad, rising prices of commodities such as energy and raw materials and growing local COVID-19 cases, the machinery sector faced bigger pressure, which is likely to continue throughout the first half, Chen said.
But despite the challenges, the sector can maintain stable growth, Chen said, adding that 60 percent of key machinery industrial products that the federation monitors posted growth in January and February.
Pan Helin, co-director of the Digital Economy and Financial Innovation Research Center at Zhejiang University's International Business School, said that because of the pandemic, industrial chains in key cities such as Shanghai are under pressure, hurting production of industrial products such as vehicles.
To safeguard the stability of industrial and supply chains amid growing COVID-19 cases, China is rolling out monetary and industrial support to ensure the smooth operation of its logistics system, and to help companies resume production.
The Ministry of Industry and Information Technology, the top industry regulator in China, said it has sent a work group to Shanghai to help 666 companies from key industries such as semiconductors, automobiles, equipment manufacturing and biomedicine to resume operations.
The ministry said it will conscientiously implement a "white list" system for companies in key supply chains and industrial chains, and establish a daily mechanism to coordinate leading enterprises in key sectors to resume operations.
Meanwhile, it will also beef up support for small and medium-sized enterprises to help them cope with challenges, the MIIT said.
Efforts will also be made to mobilize all the parties concerned to work together to implement the policies, and to continue ensuring the production and supply of medical goods, the ministry added.