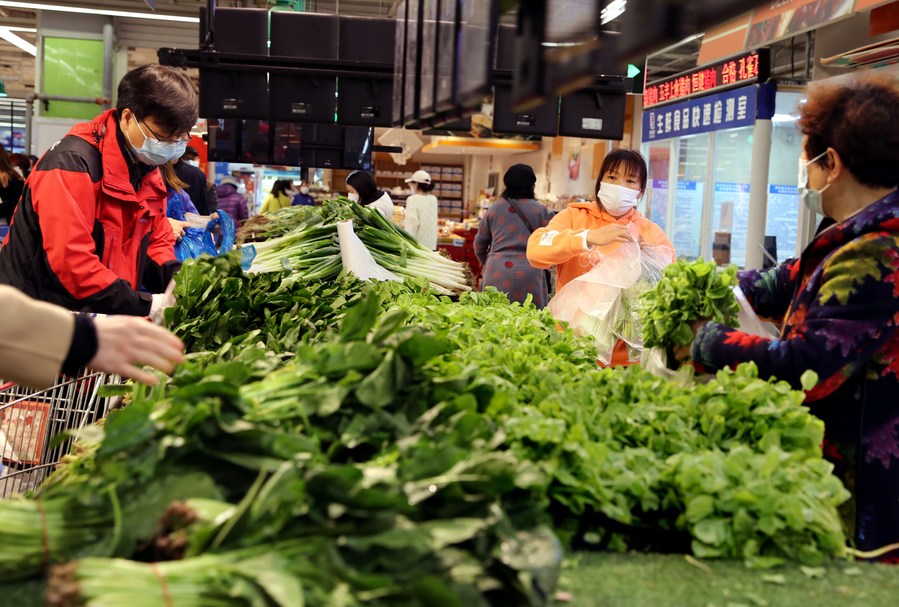 Experts called on Monday for macroeconomic policy moves to help stabilize market expectations and alleviate businesses' burdens in order to help them cope with any possible shocks brought by the rising prices of raw materials and weakening domestic demand.
Figures released by the National Bureau of Statistics showed on Monday that the country's producer price index rose 8.3 percent year-on-year in March, easing from 8.8 percent in the previous month. But the growth in producer prices accelerated on a monthly basis, up by 1.1 percent in March, compared with a 0.5 percent increase in February.
Meanwhile, the country's consumer price index, a main gauge of consumer inflation, grew by 1.5 percent year-on-year and was up from 0.9 percent a month ago, the NBS said.
Dong Lijuan, a senior statistician at the NBS, said in a statement that the monthly gain in PPI was mainly due to the continued rise in global prices of commodities as a result of geopolitical factors.
Dong also attributed the accelerated growth of consumer inflation to the sporadic COVID-19 cases in China and hikes in international commodity prices.
Wen Bin, chief analyst at China Minsheng Bank, said on Monday that the accelerated monthly expansion of PPI and year-on-year CPI expansion indicated that continuing global inflation may generate increased pressure in terms of imported inflation into China.
He added that the cost pressures being felt by upstream sectors are now being increasingly passed along the value chain to downstream sectors.
Wen called for measures "to help businesses tackle difficulties and to ease the pressure brought by the rising prices of raw materials and the weakening of effective demand".
"At the same time, it is important to keep a close eye on shifting external dynamics and policies. Contingency plans are needed in the face of risks and shocks."
He noted that efforts are particularly needed to maintain the stability of the supply and prices of commodities, while tax-break and fee-reduction policies should be delivered fully on the ground at the earliest possible date.
Li Qilin, chief economist at Shanghai-listed Hongta Securities, said in a note that amid weak domestic demand, cost pressures for downstream industries are rising.
He said that COVID-19 containment measures and disruptions to logistics and transportation are affecting production for certain businesses.
"We now look forward to any new moves that will keep prices stable, and further moves to help and protect market entities toward the overall goal of facilitating stable economic performance."
Figures from the People's Bank of China, the nation's central bank, showed on Monday that borrowing and lending activities grew faster than expected in March. The volume of total social financing increased by 4.65 trillion yuan ($730 billion) in March, up 1.28 trillion yuan from the same period last year. The PBOC data also showed that banks in China extended 3.13 trillion yuan in new yuan loans in March, marking a sharp increase compared with February.