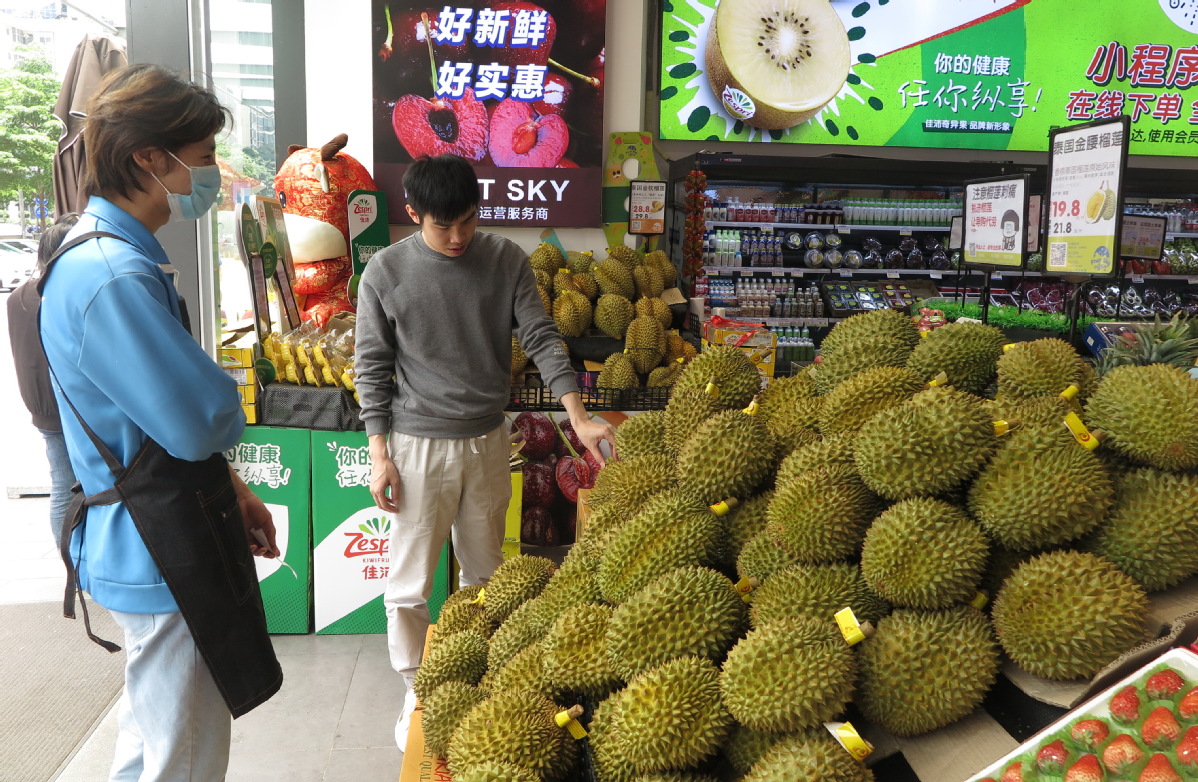 Distinctive treat sees supplies from Thailand, Malaysia on rise
Chinese consumers' appetite for durian, a tropical fruit known for its pungent smell, has been rising over the past few years. The trend has made it the country's largest fruit import and has increased trade between Thailand and China.
Since 2019, China has imported more fresh durian than cherries in quantity, cementing its place as the king of imported fruit for China. COVID-19 affected the supply chain for an extended time in 2020, but the pandemic didn't lessen Chinese consumers' love for durian, and import volumes have increased continuously since then.
In 2017, China imported 224,400 metric tons of durian. In 2021, the number reached 821,500 tons, and the import value reached $4.2 billion, according to the General Administration of Customs.
Last year, fresh fruits in the order of import volume were durian, cherries, bananas, mangosteens and grapes. Nearly 90 percent of durian imported by China came from Thailand, according to the Ministry of Commerce in Thailand.
China-based Joyvio Group, an online vendor of fruit and the agricultural arm of Legend Holdings Corp, said it imports more than 3,000 large containers of durian from Thailand and Malaysia annually. Each container holds 20 tons of fruit. The company also imports bananas and coconuts from Southeast Asian countries.
In 2021, the volume of durian that Joyvio imported increased more than 50 percent year-on-year. Durian sold best in Beijing, Shanghai, Guangzhou, Guangdong province, and Shenyang, Liaoning province, the company said.
In Thailand, Joyvio operates more than 400 vehicles for transporting fruit. In China, the company operates more than 600 cold-chain vehicles, and it works with three Customs clearance agencies. The company said it has built a whole-process monitoring system from the point of origin to the domestic market.
Joyvio primarily uses ocean shipping for fruit, with arrivals at ports in Shanghai, Guangzhou, Shenzhen in Guangdong province and Dalian in Liaoning province. It also transports fruit overland through Pingxiang in the Guangxi Zhuang autonomous region and Mohan in Yunnan province, the company said.
China has licensed importation of durian from Thailand and Malaysia. Most fresh durian is imported from Thailand via ocean shipping, and frozen durian is mainly imported from Malaysia via airfreight, according to industry reports.
China's demand for durian has increased durian cultivation and fueled a price increase in Thailand. A few years ago, the wholesale price of a kilogram of the fruit was between 13 yuan ($2) and 17 yuan, and now the price has climbed to 21 to 28 yuan, according to the Ministry of Agriculture and Cooperatives in Thailand.
China is the largest export market for Thai durian, and the fruit tops among China's fruit imports in value as well as quantity, the ministry said.
Moving durian from Thailand to China takes some 10 days via ocean shipping. Transportation times are forecast to be shortened significantly once the Sino-Thai high-speed railway begins operating in 2026.
Qinzhou Port, part of Beibu Gulf Port in Guangxi, has been designated as the reception area for a large part of the nation's imported fruit since July 2017, when it started to receive imported durian from Thailand. Last year, the port handled 20,070 tons of durian, and about 90 percent were from Thailand, according to local Customs officials.