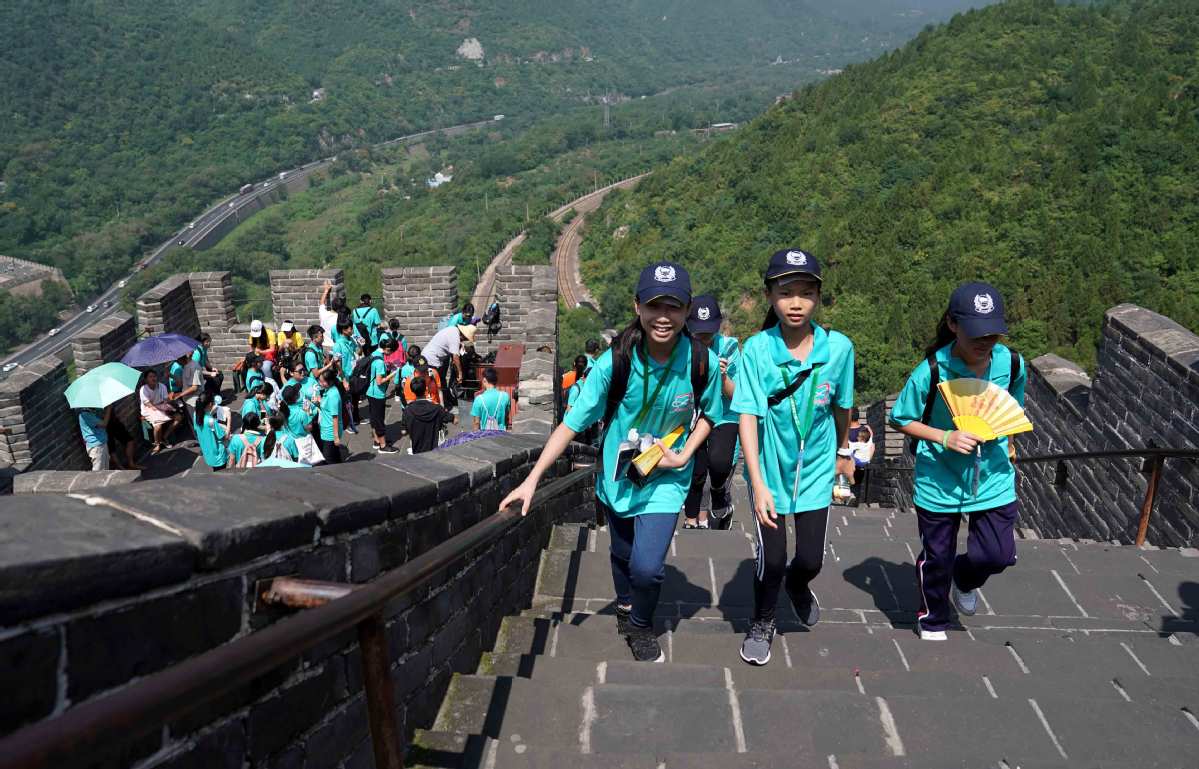 The Hong Kong Special Administrative Region government will sponsor the city's senior secondary students to take mainland study tours in a bid to help them gain first-hand understanding of the country and its development, understand and appreciate Chinese culture and develop their sense of national identity, the city's education bureau revealed.
The program is an integral part of the citizenship and social development curriculum, which is compulsory for senior secondary students and was implemented from secondary 4 in the 2021/22 school year.
A total of 21 routes, ranging from two to five days in provinces like Fujian, Guangdong and Hunan, will be offered to students, who are required to present what they have learned and their self-reflections after the study tours.
In a post on social media, Secretary for Education Christine Choi Yuk-lin said that in order to allow students to gain first-hand understanding of the country's culture and history, as well as its development, the bureau, in a special arrangement, is adding mainland study tours to the citizenship and social development curriculum.
The bureau, in a written reply to China Daily, said the study tours will start when the pandemic situation eases and quarantine-free travel is resumed. It estimated there are about 50,000 places for the program every year.
The two- and three-day tours are mostly of Guangdong or the Macao Special Administrative Region, and include visits to cultural and historical sites in Guangzhou and Dongguan, a tech tour of Huizhou, an environmental protection tour of Heyuan, an art and culture tour of Macao and Zhuhai and a culture heritage tour of Kaiping.
Four-day tours are of cultural and historical sites in Fujian, which is part of the Maritime Silk Road.
The five-day options include trips to Hunan and Guizhou provinces.
Wong Ching-yung, the principal of Scientia Secondary School, said his school may prefer four- or five-day tour routes for the Christmas or Easter holidays as other options are too short to allow students a comprehensive experience.
Wong suggested an alternative plan, such as virtual learning, should also be taken into consideration as the quarantine-free travel may not resume very soon.
The new program also received warm welcome from mainland counterparts, with some cities not on the current destination list offering to host Hong Kong students in the future.
Making such a proposition to China Daily, the education authority of Yichang city of Hubei province said the city, as a national-level basic education reform pilot zone, has the capacity to forge an exchange platform for Hong Kong and mainland youth, while local tourism resources like the nearby Shennongjia National Park, which is also a registered World Natural Heritage, would also attract Hong Kong students for a visit.
Yichang also wishes to carry out regular educational activities such as education camps and student exchanges with the Hong Kong SAR, the authority said.
Zhang Changquan, former Party secretary of Dongjiangyuan village, Ganzhou, Jiangxi province, hoped more Hong Kong students could visit Jiangxi, especially his village, which was relocated in order to protect the source of the Dongjiang river.
The river provides fresh water to the financial hub over the decades.
Zhang hoped Hong Kong students can see the origin of the Dongjiang with their own eyes and the close ties between Hong Kong and the mainland, which can strengthen their national identity and pride.