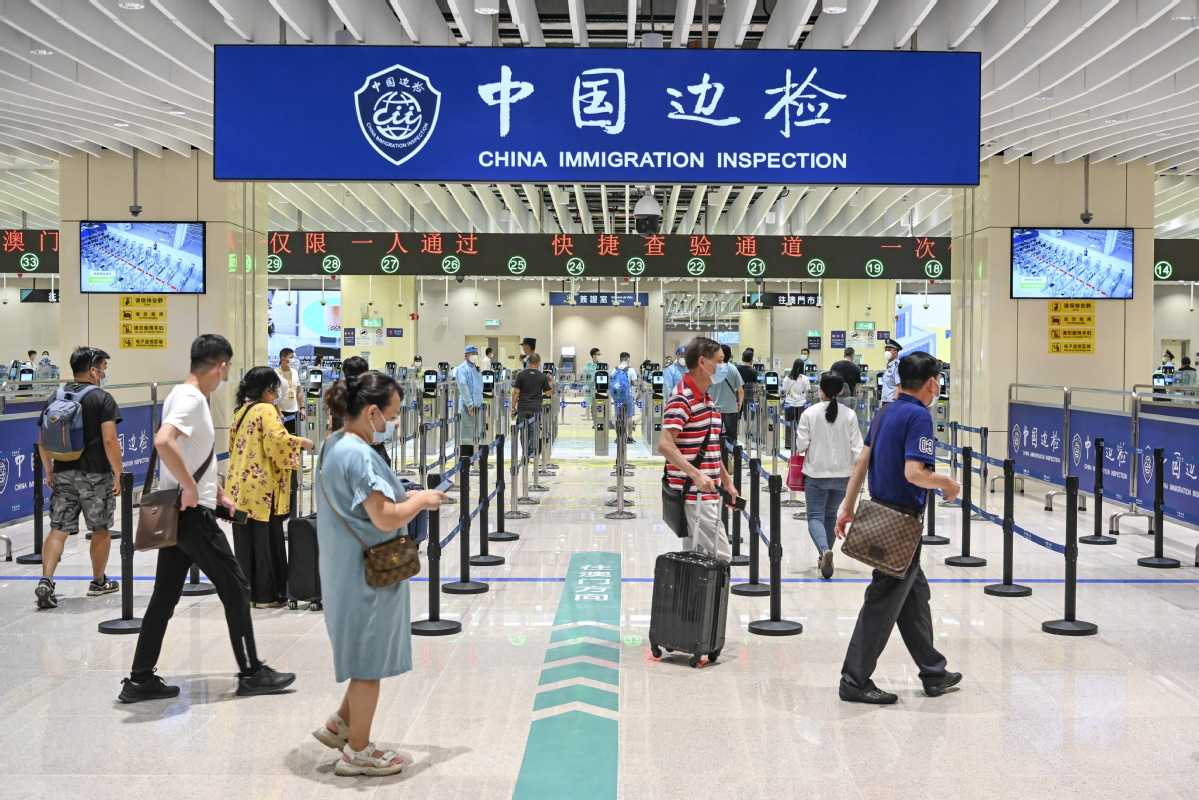 MACAO — At around 8:00 am on workdays, Macao resident Cheong spends less than one minute crossing the border to Zhuhai in neighboring Guangdong province via the Qingmao Checkpoint, the fifth land port linking the Macao Special Administrative Region (SAR) with the Chinese mainland.
With simplified customs clearance procedures, the port, which was opened in September 2021 and operates round the clock, boasts 50 automated channels inbound for passenger clearance services and 50 automated channels outbound, with two staffed counters operating in each direction.
At almost the same time, Macao resident Ho Kok Tou drives to work at an information technology firm located in Hengqin island of Zhuhai, which is adjacent to Macao.
Currently, over 2,000 vehicles with Macao licenses cross the Hengqin Checkpoint each day thanks to the policy allowing Macao-licensed vehicles crossing the border since the end of 2016.
Since 2017 when the framework agreement on the development of the Guangdong-Hong Kong-Macao Greater Bay Area was signed, connectivity has been continuously improved to help Macao better integrate into the country's overall development.
In September last year, the Chinese central authorities issued a plan to build the Guangdong-Macao in-depth cooperation zone in Hengqin, making the island an important new growth point for Macao's economy.
Sheng Li, associate dean of the Faculty of Social Sciences at the University of Macao, told Xinhua that infrastructure connectivity, mainly represented by modern comprehensive transport systems, is vital to regional integration and development within the resource-rich Greater Bay Area.
In March 2021, construction was launched to extend Macao's light rail transit line into Hengqin. It is planned to operate as a shuttle between the two sides upon completion scheduled in 2025. Research is also underway to link Macao with Hengqin via water route.
In Hengqin, several bridges and undersea tunnels are under construction to better link the island with other parts of Zhuhai, particularly its airport.
In the meantime, Macao has also made effort to improve its "soft connectivity" with Guangdong in terms of investment, trade, personnel flow and customs clearance.
A new project has been launched in Hengqin to offer residential and business units as well as supporting facilities to Macao residents, with their education, medical and community services all connected with those of Macao.
An online platform has also been launched to settle cross-border arbitration cases under the new model of mutual discussion, joint construction, joint administration and shared benefits between arbitration institutions in Macao and Guangdong.
"Connectivity of rules and mechanisms guarantees market integration and efficient flow of other key elements in the Greater Bay Area," Sheng said. "Macao's effort to explore the 'greatest common divisor' of 'soft connectivity' under different systems can provide a useful reference for the linkage of different market mechanisms."
Ho Iat Seng, chief executive of the Macao SAR, said in the policy address for the fiscal year 2022 that the Macao SAR government will speed up drafting major supporting policies for building the cooperation zone in Hengqin, including special measures to relax market access in the zone, as well as a list of the first batch of authorized items and encouraged industries.
The SAR government will also actively participate in the building of legal system in the cooperation zone, deepening exchanges and cooperation in law and justice with Guangdong, and improving the dispute settlement mechanism, Ho said.
Ip Kuai Peng, pro-rector of the City University of Macao, said building the cooperation zone is the top priority for Macao to participate in the building of the Greater Bay Area and promote connectivity within the area.
Ip said connectivity means improving Macao's accessibility and promoting institutional innovations so as to facilitate policy coordination and linkage of plans in the fields of law, science and technology, finance, business and people's livelihood within the Greater Bay Area.