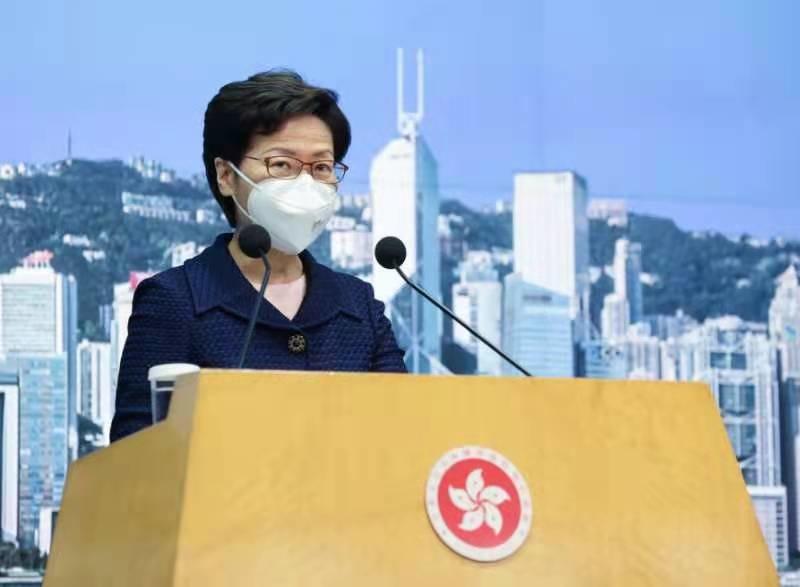 Hong Kong will kick off a wealth of celebrations marking the special administrative region's 25th anniversary — events that are possible holding due to the subsiding of the pandemic's fifth wave, Chief Executive Carrie Lam Cheng Yuet-ngor said on Tuesday.
The number of daily new infections in the city has been declining since mid-April, and the number fell below 200 for the first time in recent months on Monday, Lam explained.
Since classes resumed, the pandemic situation in schools has also been stable, and, as of Monday, 349 cases had been found by daily rapid antigen tests on campuses, she added.
Considering the positive changes, the city will begin to hold celebrations delayed by the pandemic. For an instance, the theme song of the anniversary will be released next week, said the Hong Kong leader.
On Monday, the Leisure and Cultural Services Department also announced that it will host a series of programs celebrating the anniversary from May to the end of this year, including exhibitions, art performances and floral displays.
On July 1, most of the city's paid sports facilities, such as badminton courts, billiard rooms and water facilities, will be open to the public for free.
During the news conference, Lam also said the public has responded positively to the first two phases of social distancing relaxation measures, and the third phase of measures may be implemented before June 30.
She continued that a Legislative Council subcommittee finished its deliberation of the government's restructuring plan on Monday. The government will submit the proposal at the LegCo general meeting on June 15, and it will be put to a vote on the same day.