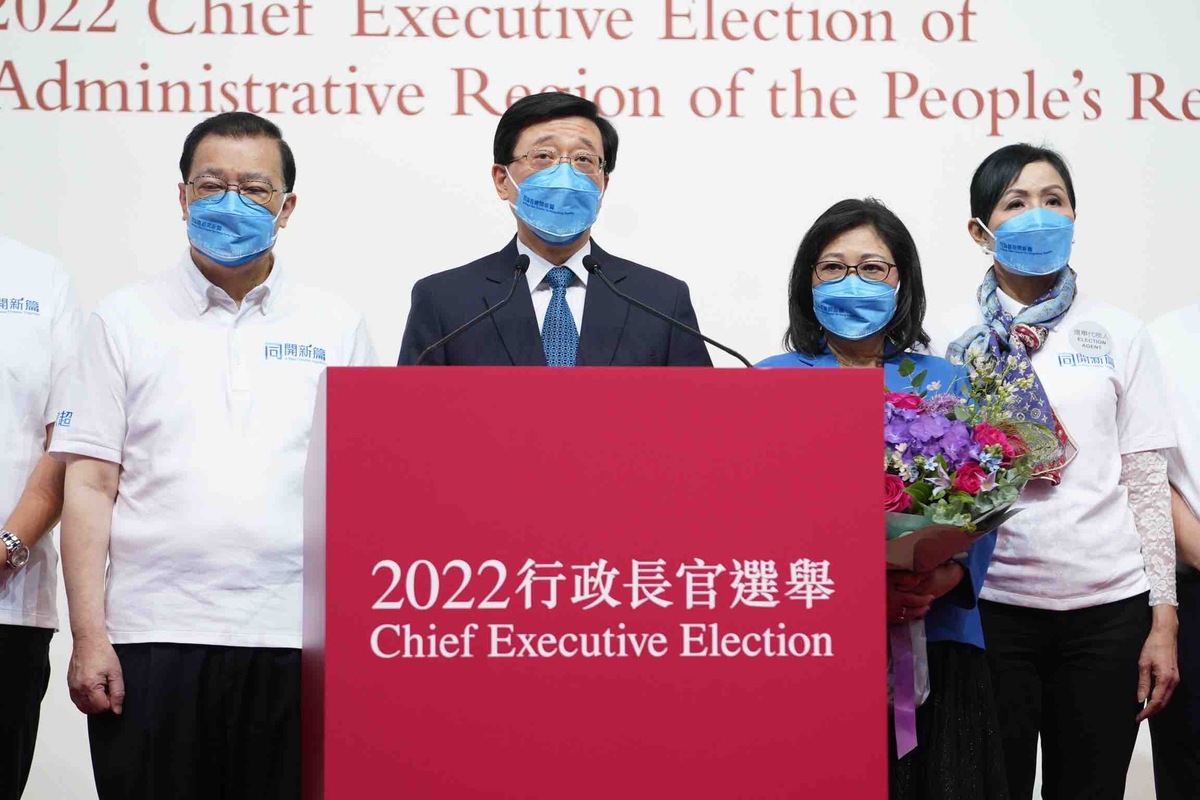 Chief Executive-elect John Lee Ka-chiu on Monday put forming his governance team, government restructuring and transition between the two administrations, and celebrations for the 25th anniversary of Hong Kong's return to the motherland high on his agenda before his term begins on July 1.
Speaking after meeting with Chief Executive Carrie Lam Cheng Yuet-ngor at government headquarters, Lee thanked Lam for arranging a swift meeting to go through the arrangements of government transitions, a day after he was elected.
Calling the meeting useful, Lee said they delved into issues relating to government transition, pandemic controls and proposed government restructuring, as well as events marking the 25th anniversary of Hong Kong's return to the motherland.
Lee said he will reflect on the topics discussed at the meeting about government restructuring.
He also expressed gratitude for Lam and the civil servants for their professionalism and meticulousness in organizing a successful and orderly election on Sunday.
Lam extended congratulations to Lee in person on Monday morning, including her wishes that Lee will lead Hong Kong to greater heights in the next five years.
The successful conduct of the sixth-term CE election signified the completion of a fully established electoral system that honors the principle of "patriots administering Hong Kong", Lam said.
In her remaining term, Lam said she will render all the necessary support for forming a new government and government transition, and rein in the pandemic to create a favorable condition for border reopening and hold activities to mark the 25th anniversary of Hong Kong's return to the motherland.
Lee was elected the city's six-term chief executive with a resounding vote of 1,416 votes, or 99 percent of Election Committee members who cast their ballots, and far surpassing the threshold of 750 votes needed to win the election.
Later today, Lee will meet with the Chief Justice of the Hong Kong Court of Final Appeal Andrew Cheung Kui-nung and Legislative Council President Andrew Leung Kwan-yuen.
In the afternoon, he will also pay a courtesy visit to the four offices set by the central government in the city, namely the Liaison Office of the Central People's Government in the Hong Kong Special Administrative Region (HKSAR), the Office for Safeguarding National Security of the Central People's Government in HKSAR, the Office of the Commissioner of the Chinese Foreign Ministry in HKSAR, and the Chinese People's Liberation Army (PLA) Garrison in HKSAR.