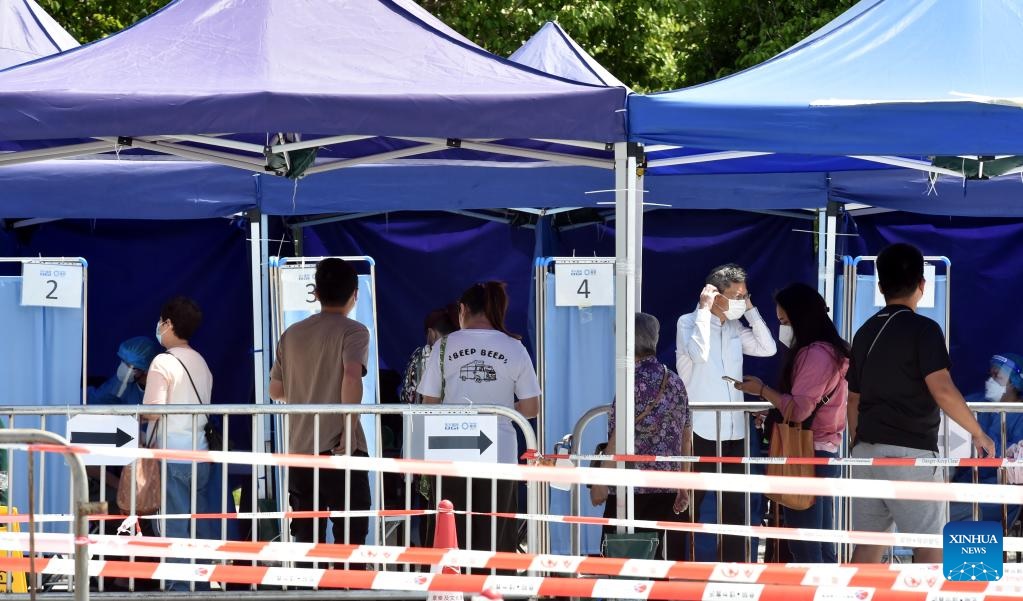 Hong Kong's fifth wave of the COVID-19 epidemic is being gradually brought under control as the Special Administrative Region reported 747 new cases on Sunday, the third day in a row that infections were below 1,000. 
In helping rein in the city's worst COVID-19 outbreak, the central government has given full support to Hong Kong to ensure stability and curb the spread of the virus. In the early stages of its fifth outbreak in February, the central authorities quickly deployed emergency medical experts and workers to the city.
On Feb 16, a top-level anti-epidemic task force was set up on the Chinese mainland to bolster Hong Kong's epidemic control efforts.
Over the next three days, two teams of epidemiology experts arrived in the city from the mainland to help. On Feb 28, a third delegation led by Liang Wannian, head of the National Health Commission's COVID-19 leading task force, also arrived to offer advice. 
On March 29, a traditional Chinese medicine expert team led by Tong Xiaolin, an academician at the Chinese Academy of Sciences, landed in the besieged city to provide guidance. This was followed by another delegation of epidemic control and prevention experts on April 7. 
When the mainland experts arrived, they went to the front line to visit community isolation facilities and elderly care homes, and they pinpointed Hong Kong's priorities in combating the outbreak. 
Liang said in early March that Hong Kong's epidemic control work should focus on protecting seniors and reducing the number of severely ill patients and fatalities. He noted that the city's limited resources and energy should be directed to meet those goals.
The SAR government adopted his proposals, which effectively helped cope with the raging infections.
Besides support from the teams of experts and medical workers, numerous medical supplies and fresh food have also been shipped to Hong Kong to ease shortages.
From Feb 16 to April 14, the mainland provided 136,617 live pigs, 132,078 metric tons of vegetables, 27,869 tons of fruit and 27,520 tons of chilled poultry and meats, as well as 1,469 tons of liquid soap and 6,833 tons of disinfectant fluid. By Sunday evening, 30 types of medical supplies had arrived in Hong Kong from the mainland, including 260 million testing kits and 283 million KN95 facial masks.
Six community isolation and treatment facilities contracted by mainland companies were set up in Hong Kong in March, offering about 20,000 beds to enhance the city's capacity for receiving and treating COVID-19 patients. On March 24, construction was completed on the Yuen Long Tam Mei makeshift hospital, the sixth such facility. 
On April 7, the first phase of the Central Government-Aided Emergency Hospital in Lok Ma Chau Loop was completed, offering 500 negative pressure tented beds — including 32 intensive care unit beds — and two operating theaters.
Construction is expected to be completed by the end of this month, by which time the hospital will feature 1,000 negative pressure tented beds.
People from all walks of life in Hong Kong have expressed their gratitude to the central government for its support. 
Hong Kong Secretary for Security Chris Tang Ping-keung said on Saturday that he thanked the central government for providing endless assistance, sending medical workers and supplies to the city, and helping build six isolation facilities within seven days. 
"The epidemic has made us Hong Kong people show solidarity, and I hope the city can overcome the epidemic as soon as possible," he said. 
Lau Siu-kai, vice-president of the Chinese Association of Hong Kong and Macao Studies, said the mainland medical experts offered valuable advice on implementing the city's epidemic prevention and control measures. 
"The helping hand lent by the central government when Hong Kong is in need will be remembered by Hong Kong people," Lau said.