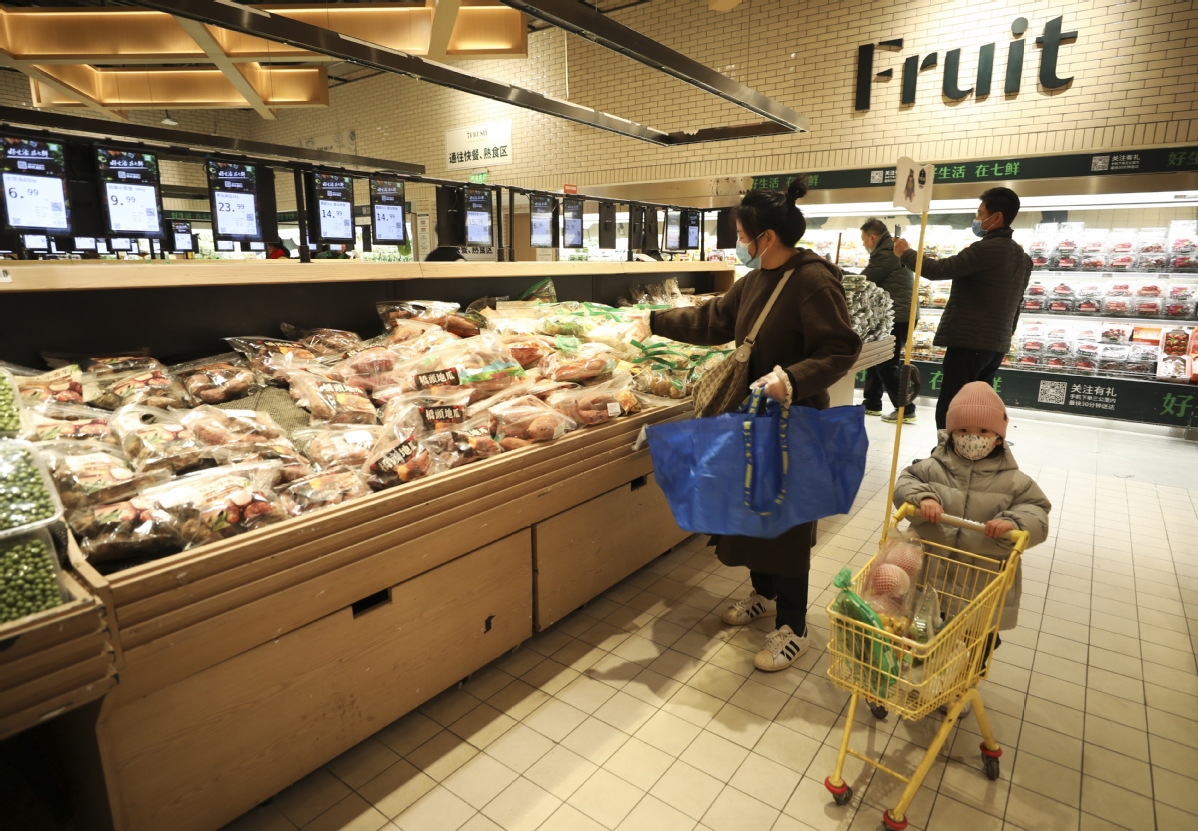 China has unveiled a new package of measures to shore up consumer spending and support smaller firms and the services sector as the nation battles to contain its most extensive COVID-19 outbreaks since the onset of the pandemic.
In the guideline published on Monday, the General Office of the State Council, China's Cabinet, pledged to scale up aid measures for businesses hit hard by the pandemic, ensure the stable supply and prices of basic commodities and encourage innovation in models of consumption.
Key measures include encouraging financial institutions to extend support to hard-hit sectors and encourage eligible areas to offer free nucleic acid tests to workers in the retail and catering sectors.
The guideline came as China's retail sales of consumer goods, a key indicator of spending, declined 3.5 percent year-on-year in March, amid headwinds brought about by COVID-19 outbreaks. The outbreaks have particularly hit the catering sector, which saw its revenue decline by 16.4 percent year-on-year in March, according to the National Bureau of Statistics.
Meanwhile, online retail sales of goods increased 8.8 percent year-on-year in the first quarter of this year, contributing a larger share to retail sales, which increased by 3.3 percent from the level of 2021.
According to the guideline, the nation will plan the construction of major warehousing bases in major cities to ensure that daily necessities can be distributed during emergencies and the supply of goods will not be disrupted.
The guideline highlighted the need to promote the growth in new models of spending to accommodate the measures for containing the pandemic, saying that new business models such as smart products must be given a greater boost.
In stabilizing the fundamentals of consumption, the nation will scale up measures to spur spending on services such as health and care for the elderly, including developing services and products in tourism, health consultation, daily care and management of chronic diseases for the elderly.
The government will give priority to the development of green consumption, including taking steps to promote the use of green construction materials, accelerate the renovation of buildings for energy conservation purposes and support the growth of the new energy vehicle sector.
The policy document called for better alignment in epidemic containment measures between different regions to ensure unimpeded logistics, saying that the development of cold-chain logistics will be expedited.
It highlighted the need to boost spending through increasing the income of residents, with steps to support the development of various labor markets, the operations of self-employed individuals, and improve the level of income of salaried employees in urban areas and migrant workers.
In breaking the barriers that restrict spending, the government will seek to further coordinate standards, rules and policies in different areas and sectors.