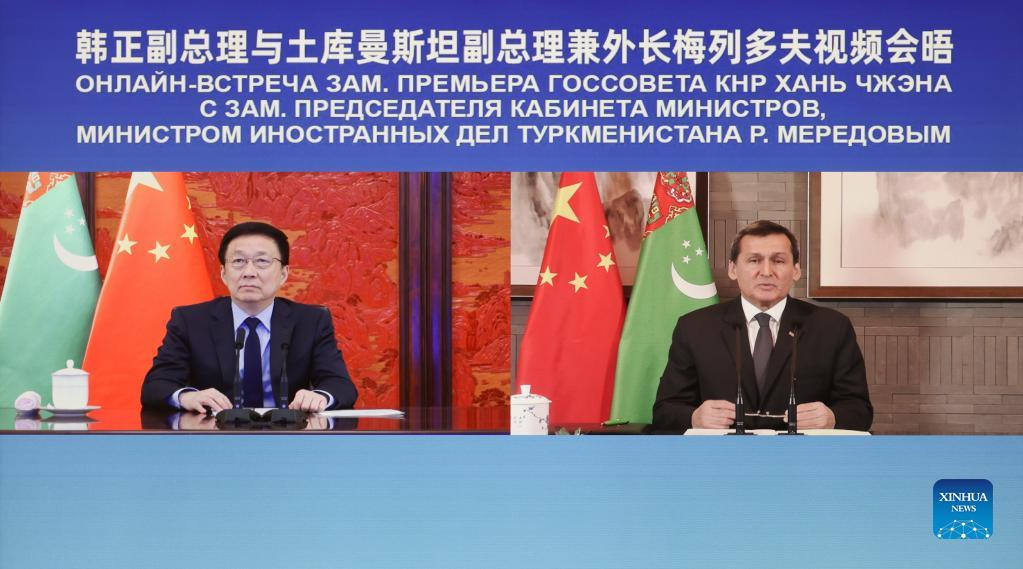 Vice-Premier Han Zheng called on Wednesday for China and Turkmenistan to take natural gas cooperation as the top priority of bilateral pragmatic cooperation, and actively study and expand cooperation on the exploration of renewable energy resources to enrich the energy cooperation between the two countries.
Han made the remark when meeting via video link with Turkmen Deputy Prime Minister and Foreign Minister Rashid Meredov, who is in China for a visit.
China and Turkmenistan are win-win, cooperative strategic partners that respect and support each other, said Han, who is chairman of the China-Turkmenistan Cooperation Committee.
Under the personal care and promotion of the two countries' heads of state, relations between China and Turkmenistan have achieved a leapfrog development, with cooperation in all fields reaching the highest level, he said.
Just two weeks ago, President Xi Jinping had a phone conversation with Turkmen former president Gurbanguly Berdymukhamedov and President Serdar Berdymukhamedov, which Han said has charted the direction for the next phase in development of the bilateral relations.
The two sides need to align the Belt and Road Initiative with Turkmenistan's development strategy to revive the Great Silk Road and expand cooperation in various areas including agriculture, transportation, communications, finance, aerospace and equipment manufacturing, and elevate economic and trade cooperation, Han said.
He said the two countries should deepen security cooperation and enhance capabilities in preventing or responding to major security issues.
He also called for improving the quality and level of bilateral people-to-people and cultural cooperation to facilitate sound and steady development of relations between the two countries.
China will strengthen anti-pandemic cooperation on vaccines and in other areas and jointly build an immunization shield with Turkmenistan, he added.
Meredov said Turkmenistan attaches great importance to its strategic partnership with China and is willing to maintain close contact with China to give full play to the role of the China-Turkmenistan Cooperation Committee.