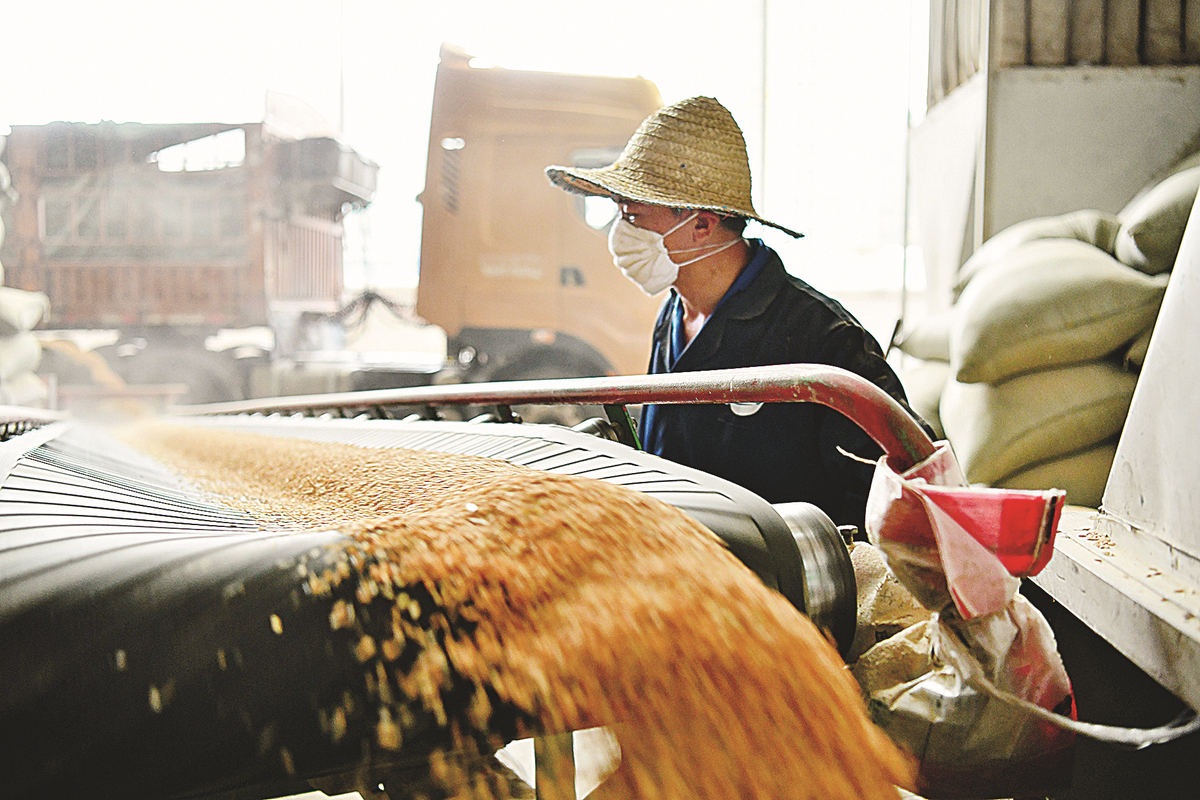 China should develop a new pattern for rural industries that is based on local characteristics, integrates the rural and urban areas and encourages countryside entrepreneurship to promote rural vitalization.
That was the message delivered by political adviser Wang Hong during the recent session of the Chinese People's Political Consultative Conference.
This year's No 1 Central Document outlined the key tasks to comprehensively advance rural vitalization, with rural industry high on the agenda as the basis for solving rural affairs.
However, according to Wang, vitalizing rural industry doesn't mean replicating urban industrialization or transferring low-end industries from cities to villages.
"We should build a special system and development pattern for rural industries based on the distinctive functions of urban and rural areas," she said.
Wang proposed expanding existing rural industries and establishing new ones-such as rural tourism and deep processing of agricultural produce-to take advantage of the rural areas' rich natural resources, comfortable environments and special cultures.
The rich water resources in Lixin county, Anhui province, have produced a tradition of breeding hairy crabs. Also known as a rice-planting area, the county is developing the combined cultivation of crabs and rice as an environmentally friendly breeding method.
High-quality hairy crabs are bred in 36 of the county's 49 lakes, which are also planted with rice to provide natural food for the crustaceans, according to the local government.
The crabs also eat worms in the rice paddies, along with water plants which provide them with natural nutrition and ensure a good taste and abundant meat. In turn, the crabs help the rice grow better and healthier by dealing with insects and weeds without the need for fertilizers or pesticides.
Late last year, Dou Yunhua, owner of a family farm in Lixin who acted as a pioneer of the combined cultivation method in 2018, told China Central Television that she sells her entire organic rice crop in Shanghai for high prices, while the hairy crabs she breeds are popular with consumers nationwide.
She noted that her income per hectare is now six times higher than when she used traditional planting methods.
The local agriculture bureau said the Lixin government plans to expand the 1,000-hectare combined cultivation area to 3,333 hectares by the end of the year and introduce a number of companies to promote deep processing.
"We hope to aid villagers through the advantages of this green cultivation method," Chen Hua, the bureau's director, said.
Given that industrial elements such as land, talent and capital usually flow from the rural to the urban areas, Wang suggested boosting the mutual flow to vitalize high-quality industries and stabilize sectors that were established to aid poverty-alleviation efforts.
"China should guide farmers to produce good, marketable products that meet the needs of urban residents. Large enterprises and new technology should be introduced to expand the scale of rural industries," she said.
Last month, Wu Hongyao, a senior official with the Ministry of Agriculture and Rural Affairs, said China will develop three major rural industries this year: agricultural processing; local tourism; and e-commerce.
"Industrial parks should drive agricultural processing at the county level, and major-production areas should establish clusters to advance special local industries," Wu said.
Wang said that as rural entrepreneurship has developed via the support of the improved infrastructure, more preferential policies should be provided to facilitate startups.
"Rural entrepreneurs will have priority to use public spaces to hold related events," she noted.
According to a report on China's central and local budgets that was approved at the fifth session of the 13th National People's Congress earlier this month, the central government will allocate 165 billion yuan ($26 billion) to a follow-up fund for rural vitalization this year, a rise of 8.47 billion yuan year-on-year.
More funding will be provided for areas that face major challenges in consolidating the results of poverty alleviation. The fund will be used to support areas that have been lifted out of poverty by developing industries with distinctive local features, the report said.