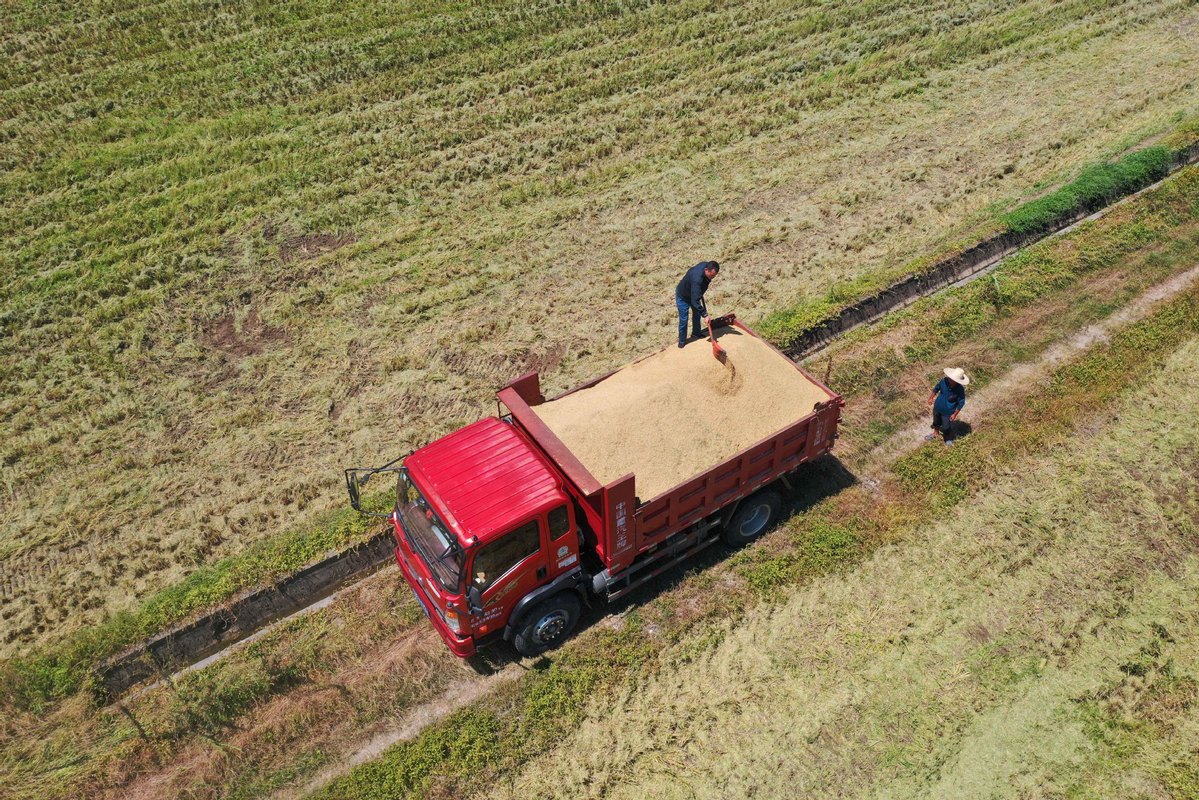 China's rural economy continued to improve in the first half of this year, with the arrival of the summer grain harvests and the expansion of soybean and oil-producing crops, officials with the Ministry of Agriculture and Rural Affairs said on Wednesday.
Zeng Yande, head of the ministry's Development and Planning Department, said the summer grain harvest had come in at 147.4 million metric tons, a rise of 1.4 million tons on last year, with wheat production at 135.7 million tons, up 1 percent year-on-year.
The ministry expects the area of early rice crops to increase steadily, and more than 60 percent has already been harvested, Zeng said.
There has been a remarkable expansion of soil bean and oil-producing crops, with this year's rapeseed yield hitting a record high, and total production volumes undergoing the biggest increase in six years.
Zeng said there are now more than 1 million hectares of combined corn and soybean crops and soybean cultivation should increase greatly, making the crop one of the highlights of national agricultural production this year.
Pork production increased 8.2 percent in the first half of the year.
Liu Han, an official with the ministry's Department of Market and Informatization, said pork prices have been recovering since late March. Last month, the average wholesale price reached 21.57 yuan ($3.18) per kilogram, an increase of 4.3 percent on the previous month, but a year-on-year decrease of 8.2 percent.
The supply of vegetables, fruits, eggs and other major foodstuffs are sufficient. Due to rising costs and the impact of high temperatures, current prices are higher than during the same period last year, Liu explained.
Meanwhile, investment in agriculture and rural areas is rising and the rural consumer market has gradually recovered, Zeng said, adding that the import and export of agricultural products has also grown to reach $161.68 billion, a year-on-year increase of 10.4 percent.
"However, rural and agricultural economic development face challenges, such as the increasing threat of natural disasters," he said.
Farmers are encountering greater pressure when it comes to increasing employment and incomes, and the growth rate of agricultural and rural investment is slowing, he added.